Trying to get the perfect beach body, but sweets are just too tempting?
Do not fret, there are ways to still satisfy your sweet tooth while taking in less than half the calories! Grab your grocery list because you are going to want to head to the store right after viewing these easy-to-make recipes.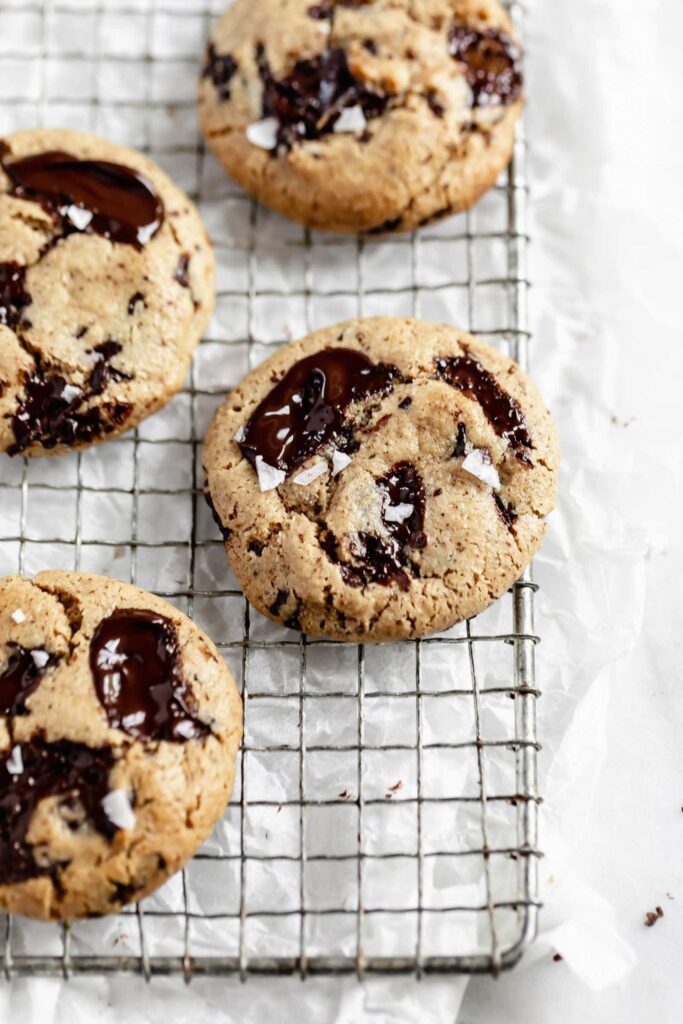 Healthy Gluten Free Chocolate Chip Cookies
Ingredients
1/2 cup of creamy almond butter
1/3 cup of coconut oil, melted
6 tablespoons of maple syrup
1 egg (or flax egg if vegan)
2 teaspoons of vanilla extract
1 3/4 cup of almond meal
1/2 teaspoon of baking soda
1/2 teaspoon of salt
1 1/2 cups of dark chocolate chips
Instructions
In a large mixing bowl combine the almond butter, melted coconut oil, maple syrup, egg, and vanilla extract. Whisk the mixture until it is completely homogenous, about one minute. Add the almond meal, baking soda, and salt, and stir until just combined. Fold in the chocolate chips.
Place the cookie dough in the fridge for at least an hour, but up to 24 hours.
When you are ready to make your cookies, preheat the oven to 350°F and line a baking sheet with parchment paper. Using a cookie scoop, scoop out rounds, dropping the dough two inches apart (the cookies will spread). Bake for 10 to 12 minutes depending on your oven, taking them out when the edges are golden brown, and the centers have puffed up.
Allow the cookies to cool and enjoy with a glass of milk!
Healthy Peanut Butter Banana Muffins
Ingredients
3 large ripe bananas
1/2 cup of natural peanut butter
4 tablespoons of honey
2 eggs
2 teaspoons of vanilla extract
1 1/4 cups of oat flour
1 tablespoon of baking powder
1/2 teaspoon of salt
1 cup of dark chocolate chips
Instructions
Preheat the oven to 425°F. Line a muffin pan with 12 muffin cups and spray the cups with an oil-based spray. Set aside.
In a large bowl, combine the bananas, peanut butter, honey, eggs, and vanilla. Stir the mixture until it is well combined. When done, add the oat flour, baking powder, and salt, and fold to combine. You can then add the chocolate chips but be sure to not over mix.
Scoop the batter into the prepared cups in your muffin tray, filling them just shy of the top of the cups. Bake for 5 minutes at 425°F, then, without opening your oven door, turn the oven down to 350°F and bake for an additional 15 minutes.
Remove the muffins from the oven and allow them to cool for 10 minutes, before transferring them to a wire rack to cool completely.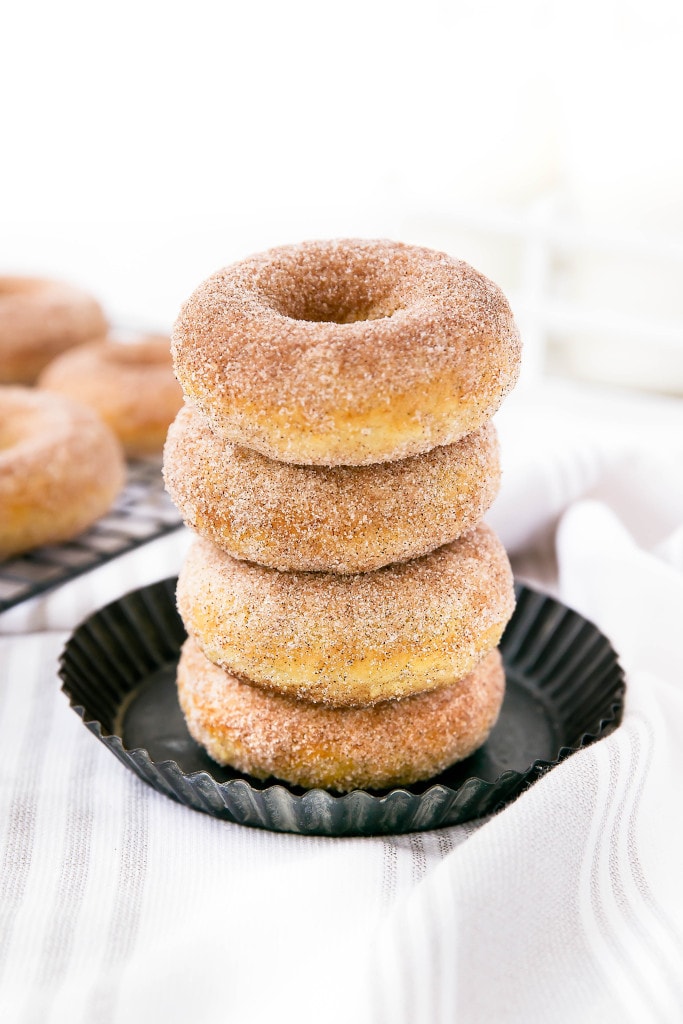 Ingredients for the Donut
1 1/2 cup of all-purpose flour
1/3 cup of light brown sugar
1/2 teaspoon of baking soda
1/2 teaspoon of baking powder
3/4 teaspoon of salt
1 egg
1/3 cup of plain, non-fat yogurt
1/4 cup of vegetable oil
1/4 cup of whole milk
1 teaspoon of vanilla extract
donut pan
Ingredients for the Cinnamon Sugar
1 1/2 cups of granulated sugar
1 tablespoon of ground cinnamon
1/4 cup butter, melted
Instructions
Preheat the oven to 350°F. Grease a standard-sized donut pan and set aside.
In a medium bowl, combine the flour, sugar, baking soda, baking powder, and salt. In a separate bowl, combine the egg, yogurt, vegetable oil, milk, and vanilla extract. Carefully pour the wet ingredients into the dry, mixing until just combined. The mixture will be slightly lumpy and thick.
Spoon the batter into a large Ziplock bag and cut a ½ inch hole in one corner, creating a makeshift piping bag. Pipe the dough into the donut molds, filling 3/4 of the way to the top of the molds. Bake for 10 minutes.
Allow to cool in the pan for 5 minutes before coating with cinnamon sugar.
To make the cinnamon sugar, combine the sugar and cinnamon in a shallow bowl. Using a small brush, brush each donut with the melted butter, then dip each side into the cinnamon and sugar mixture. Serve!
For more insight on delicious desserts recipes, visit Broma Bakery.
Happy Baking!
Article submitted by Katie Alfred.